I think the first point I should get out of the way now is that this is a Greek Insurance company, don't gasp too loud. The Greek insurance market has seen premiums written in 2010 at 5.3 billion euro, take a nose dive to 3.8 billion euro premiums written in 2016. In fact the first year since 2010 where premiums written headed in the positive direction was 2016 where premiums increased from 3.7 billion euro in 2015 to 3.8 billion euro in 2016. So while this by no means shows that Greece is anywhere close to being out of the woods its one of the few positive stories coming out of Greece. Why I got interesting in investing in Greece was because if you even utter the name of the country today they are immediately associated with debt and financial hardship, if fact when I mentioned to a friend that I was invested in a Greek Insurance company I was asked if I was on drugs. When people are that pessimistic on a country you are bound to find some gems it just takes some digging, most companies listed on the Athens Stock Exchange have been hurt by the crises of the last decade. Taking a look at a chart of the Athens Stock Exchange gives a great picture of this.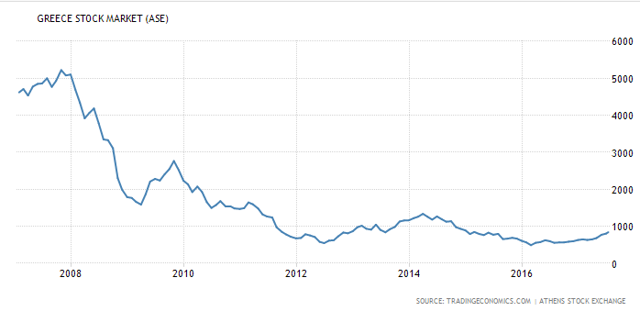 The value of the ASE has dropped -83% since its high in 2008. I understand the macro problems that Greece has had over the last decade, but a chart like this gets me excited. A rising tide lifts all boats, and to use a great quote from Warren Buffett "Only when the tide goes out do you discover who's been swimming naked." The tide is far out in Greece and we have had plenty of time to see who is swimming naked.
This leads me to European Reliance General Insurance, (ERPRF) they opened for business in 1977 and has been lead by founding member and CEO Christos Georgakopoulos for 40 years. This year Mr. Georgakopoulos and his team at EUPIC.GR reported earnings of 14,698,000 euros a year over year increase of 31%. Currently the company has a market cap of 104 million euros and a P/E ratio of 7.04x. What is really interesting to me is how well the company bounced back after the Great Recession, having had to do a lot of leg work just to get the numbers on how well the company produced prior to 2011. After more Google searches that I would like to admit I was able to find www.ase.gr apparently the Athens Stock Exchange had 2 sites and only this one tucked away in the deep dark web had the old EUPIC.GR numbers I was looking for, while it had some financials missing I was able to paint the picture. With the numbers I was able to find the only year since 2004 that EUPIC.GR lost money was in 2008 when they lost 53,000 euros on premium revenue growth of 22%. Taking a look at some of the numbers I was able to gather going back to 2004. 

Through the Eurozone crisis and the economic peril that the country of Greece has faced over the last decade European Reliance General Insurance increased book value at a compound rate of 12.52% a year. This is a pretty astounding number for a company that is located in a country that has had their GDP fall from 250 USD billion to 200 USD billion in that same period between 2004-2016. Sticking with the macro scene in Greece they currently have a 0% interest rate, so how does the market justify pricing a growing company at 7x earnings when technically the valuation could be limitless in relation to interest rates within the country? One justification that I see is that Gross Premiums written has slowed down since 2012 but as I pointed out previously in the article while the overall Greek Insurance market has fallen -28% since 2010 EUPIC.GR has increased their premiums written 28% during that same time, increasing their market share from 2.46% to 4.4%. Maybe the macro risks associated with the company might justify the valuation? The uncertainty of if Greece defaults or if they have to leave the EU keeps people away from Greek stocks, I see this as an opportunity. I look at risk as permanent capital loss, this happens when you either buy a company and it goes bankrupt or if you buy a company for to high of a valuation in relation to its future free cash flows. While I understand the risks associated with Greece, I cannot seem to justify not buying a company that has continued to grow through the uncertainty. Take a company like AutoZone, they have loaded up on 4 billion dollars of debt just to buy back shares at a 20-22x earnings multiple and sits at a grand total of negative 1.7 billion dollars in shareholder equity. Now that shares have fallen after a slow first quarter to about 12x earnings all of a sudden a company that has a negative net worth based on its balance sheet looks cheap to people who shutter at a company like EUPIC.GR. Should companies in the United States like AutoZone get a premium simply for being located in United States while companies like EUPIC.GR get a discount for being located in Greece? The simple answer is yes, but how much of a discount becomes ridiculous and how much of a premium becomes overly expensive.
Moving on I think it is only fair to compare EUPIC.GR to some of our favorite insurance companies in the United States in terms of P/E and ROE. 

EUPIC.GR has performed, in terms of return on equity, in line or better than their United States counterparts. But how does EUPIC.GR investment portfolio look because that is where about 70% of where their assets lay.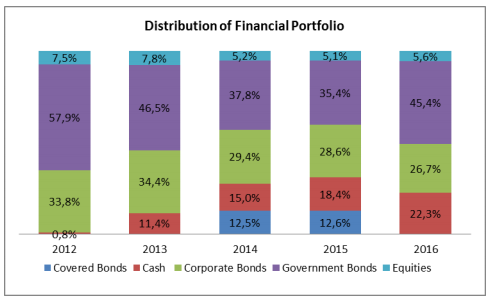 The current Bond portfolio contains 45.4% government bonds that are spread throughout the EU from various countries and has a total average rating of A+. Government bonds located in Greece contain 10% of the government bond portfolio, about 12.2 million euros due to regulations. The government bond portfolio has a 1.82% yield to maturity as well as an average duration of 7.54 years. Corporate Bonds take up 28.6% of the full portfolio and has a .57% yield and an average duration until maturity of 2.43 years. The corporate bond yield fell in 2016 due to the fact that the company wanted to reduce their exposure to Greek corporate bonds. The corporate bond portfolio has an average rating of an A, this has risen over the last three years when in 2014 the portfolio was rated a A-. Total exposure to Greece through their real estate and subsidiaries stands at 85.2 million euros.
In conclusion EUPIC.GR is one of two companies that I have found in Greece that are worth investing in. Researching about Greece and it's stock market has been a great learning opportunity for me as an investor. I had a pretty good understanding of the crisis from the United States viewpoint but getting to read the annual reports from 2008-2012 from this company was like being in a time capsule and gave me a new perspective from a country that was in far worse shape then we were and continue to be.
I will be writing up the other Greece company and have it posted as soon as I can.
Cameron.
Disclosure: I own shares in European Reliance General Insurance SA, please do your own research and talk to your financial adviser before making an investment decision, I am not a financial adviser nor am I a financial professional.