Hingham Institute of Savings (HIFS), one of the oldest financial institutions in the United States opening for business in 1834, is still sticking to the same principles that the founders of the bank had when they opened for business, quoting the founder on opening day, "Parents, by making their children depositors, can teach them the advantages of savings habits and lessons of economy which may be remembered throughout life." The company has no wealth management branch, insurance branch, you won't see any complex financial instruments either. Quite simply the bank offers simple savings, checking, and money market accounts for individuals and businesses, they use those funds to write primarily commercial and residential real estate mortgages. The bank has been creating immense shareholder value ever since 1993 when the current CEO, Robert Gaughen Jr., his father and other shareholders who were not happy with how the bank was performing after the housing crisis that took place in Massachusetts in the late 1980s and early 1990s, a look at the 1991 annual report shows just how dire the situation was.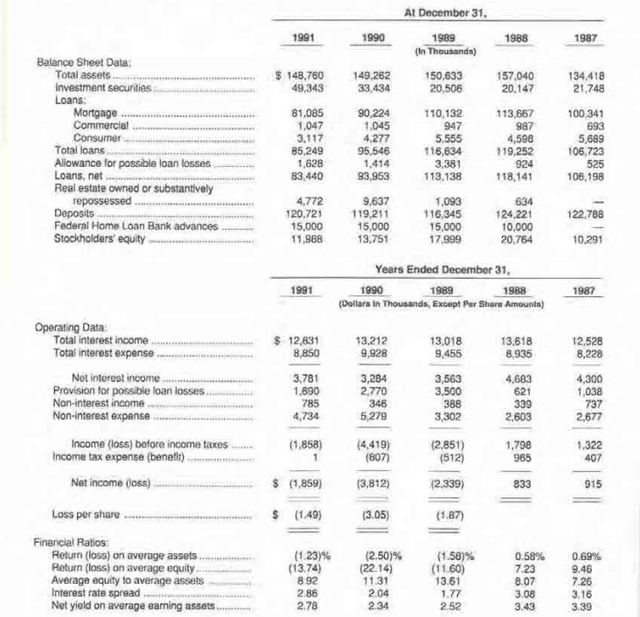 Over the last 20 years HIFS has grown its deposit base from 150 million dollars in 1996 to 1.403 billion as of September 30, 2016, a compound annual rate of just over 38%. They have used this rapid growth in deposits to grow their loan portfolio from 151 million to 1.56 billion a compound increase of 46% over the last 20 years. While these numbers seem astounding, the greatest piece of evidence that this is one of the best run banks in the United States is how the bank performed during the 2008 crisis. In 2008 while the financial system was in shock the bank increased loans from almost 600 million to 651 million, a 8.5% increase as well as a 19% increase in deposits from 441 million to 525 million.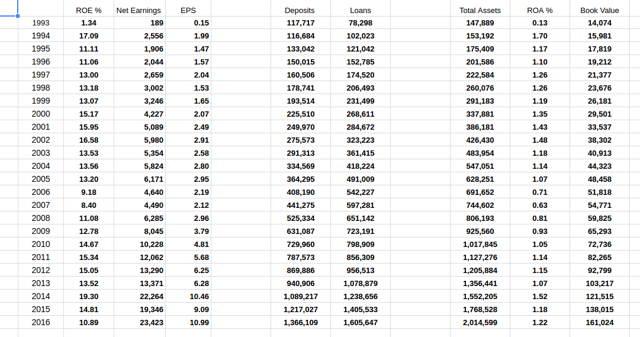 It is clear that the company has had a stellar 23 years since current management took control of the bank. But what does the future look like for the company and how will they continue to grow. To quote an article that was written about Hingham Savings in our local paper here in Hingham, the Wicked Local it says when they were interviewing Mr. Gaughen, "Gaughen expects to open several new branches around the greater Boston area over the next 5 to 10 years, including some on the South Shore. He and his board are aiming to double the bank's assets to $3.5 billion.", with that in mind the bank has been able to grow its assets at a rate of around 12% if this patterns continues to for the bank then they should be able to achieve this feat in the next 5 years. In a normal year the bank produces 1.15% return on assets, we could see the bank earn between 37 million and 40 million dollars at that time. Over the last 23 years the bank has grown its book value every single year for at an average of 11.70%. The bank currently trades at around 2.34x book value, while this may look like a very rich valuation for a bank consider that a bank does not make money on book value, they make money on earnings, and right now the bank trades at a 16.01 P/E ratio. If the bank was to trade at 1.3x book HIFS would have a P/E ratio of around 8.93 obviously this price would be absurdly cheap for a bank that is growing between 12-15% a year.
Let's do a little exercise for fun, if we take what Mr. Gaughen said in the interview that they have a goal of $3.5 billion in assets and this is done in the next 5 years as well as if the company achieves, lets say, between 1.08-1.15% ROA that would means the bank would have $37.8-40.2 million in earnings. If shares were bought today with a market cap of $377.47 million this result would be very satisfactory for an investor. If the stock was to trade at around the same earnings multiple as it does today in the range on 14-16x P/E the bank could possibly be worth between $562.8-643.2 million this would give an investor a return of CAGR return of 8.31-11.19% not including the dividends that you would receive during that time. Over the last 90 years the S&P returned an average of 4.76% a year not including dividends.
I'd also like to discuss the risks that are associated with this bank, almost all of their loans are held in Massachusetts real estate if the New England economy was to take a hit much like it did in 1989 it could cause problems for the company. Currently the bank has 0.11% non preforming loans meaning $1.76 million of their loan are non performing, they have $11,030,000 tucked away for loan losses so they are clearly well covered, at least currently. This gives HIFS a clear advantage when they are dealing with customers here is what one customer said when Dan Rather interviewed Robert Gaughen in 2009.

Either way a hit to the Massachusetts economy could hurt then bank as well as a hit the economy in general could do some damage. They could also swerve off their conservation loan underwriting path and deal out riskier loans. In terms of probability I would consider this a low probability event as long as Mr. Gaughen and current management is running operations. Take these two other quotes from the Dan Rather interview.


To conclude this is one of my favorite companies to look at, the bank is proves that you can maintain a conservative company culture while benefiting stakeholders as well as shareholder even in a competitive business such as lending.
I used to own this stock before the election when it was trading at around $131.05 and after Trump won the election the stock ended up going to around $200 at the time it was selling at 20x earnings, at that moment I had other ideas that were far cheaper so I sold my position. While I don't own this stock at the moment it is a great company to follow, and if the company ever becomes cheap enough I will not hesitate to buy it again.
Cameron.
Disclosure:
This is not a recommendation nor is it investment advice as I am not an investment professional and I am not a registered investment adviser. Please do your own research before you invest.